Traffic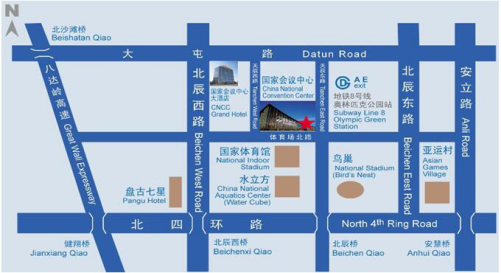 By Subway:
To take line 8 to "Olympic Park" Station.
By Bus:
Line 81; 82; 83; 85; take off at National Stadium Station.
Line 510; take off at News Station.
Line 484; 913; 379; 617;628; 751; 328; 630; 419; yuntong 110; take off at Institute of Geography Station
By Airport Shuttle Bus:
Ternimal 3 (to) Terminal 2, take shuttle bus line 6 to the station Olympic Village ( about 6 stations)
By Car:
South forward 264M from Tianchen East Road.
By Taxi from the airport:
Available at the entrances of the fairground. It charges for around RMB100 daytime, and RMB120 during night if no traffic jam.
Approved By : Ministry of Commerce of the People's Republic of China

Organized By : China Instrument Manufacturer Association

Supported By : China Machinery Industry Federation


China Entry-Exit Inspection and Quarantine Association


Operated By : Beijing Lamp Exhibition Co., Ltd.